The Pemberton real estate market continued to be strong through 2021, benefiting primarily from two key factors:
Historically low interest rates allowed the working family market, which is so important in Pemberton, to make the move to a first-time home, or a newer, larger home.
The buyer migration market trend in B.C., where homebuyers continue to leave urban areas and move to more rural environments. Pemberton, with its large farms, excellent recreational opportunities, and small-town feel has benefited from this trend over the past year. With the available properties, including new lots in Tiyata and Sunstone (as well as the new Duplexes in Sunstone) Pemberton was as ready as it could be to meet the demand.
Sales activity increased by 43% in terms of dollar volume and 7% in terms of unit sales over 2020.
Pemberton Real Estate Market Snapshot
The Pemberton market has benefited from a combination of new project sales (Tiyata and Sunstone) combined with strong single-family home and acreage property sales. The two categories that saw lower unit sales in 2021 were the condominium and townhouse markets. This was due to the lack of inventory as prices increased. Duplexes have become a notable category in Pemberton with the Sunstone development selling 23 over the course of the year for an average price of $1,119,000.
The current average sales value overall for the Pemberton area is $932,305, an increase of 30% over 2020. This is largely due to the focus on single-family homes, acreages, and the new duplexes.
The average sale price of a single family home is currently $1,141,000 (median $1,145,000) breaking the $1 million dollar mark for the first time, townhouses average $782,881 (median $775,000), condominiums average $522,586 (median $536,000), with vacant lots averaging $528,542 (median of $540,000), and duplexes are averaging a sales value of $1,119,000 (Median $1,159,000).
A Closer Look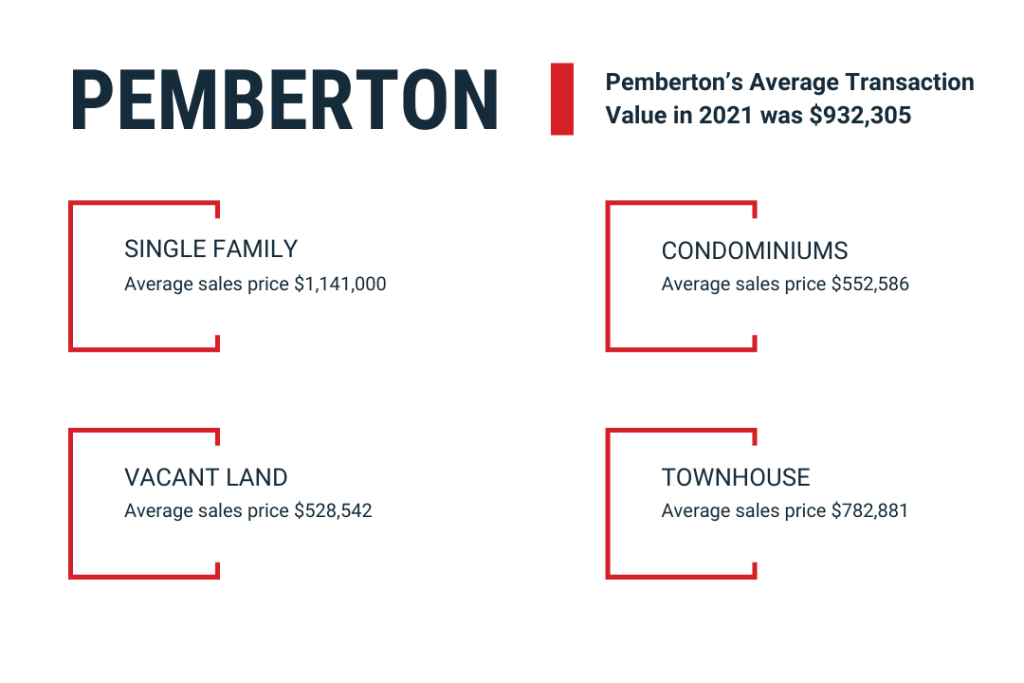 Looking Ahead to 2022
The desire to live and work in Pemberton is not diminishing, and even with potential interest rate hikes over the course of 2022, the lack of product, new or existing, will make 2022 a challenging year for buyers. The low inventory and strong demand to live in the valley will support the price increases we saw in 2021, which we believe will continue in all categories in 2022.
That being said, with the right agent, buyers will be able to find the property they are looking for and sellers will be able to get the most for their in-demand property.
For more information about how the current Pemberton real estate market activity trends may impact your decisions to buy or sell, contact me at any time.
Watch the full Whistler & Pemberton real estate market report video
Find out about the Whistler real estate market here.
*All stats deemed to be accurate and taken from the Whistler Listing System, January 2022.