Pemberton Market Update: Third Quarter 2023
With the third quarter of 2023 in the books, it's time for my quarterly Pemberton market update. Let's delve into the state of the market and take a look at the sales trends, property values, and the outlook for the coming winter months.
A Closer Look at the Pemberton Real Estate Stats
The third quarter of the year saw a total of 17* property sales in Pemberton. While this indicates a decline in sales volume compared to the preceding quarter, Q2, it's essential to understand the factors behind this trend. The decrease in sales can be attributed to a combination of factors, primarily rate increases and uncertainties regarding future rate adjustments. These elements may have impacted buyer confidence and affordability.
Despite the decline in Q3, the real estate market in Pemberton has shown remarkable consistency throughout the year. Across all property categories, including chalets, condominiums, townhouses, and vacant land, the total sales for the entire year of 2022 have managed to match the numbers from the previous year. This demonstrates a level of resilience in the market, even in the face of a slight summer slowdown.
One notable aspect of the Pemberton real estate market is the behaviour of median property prices. Depending on the property category, median prices have either remained steady or experienced an increase. This is a positive sign for homeowners and investors, as it suggests that despite a dip in sales volume, property values have held their ground or even appreciated.
Buyers, too, have reason to be optimistic. The Pemberton market has witnessed improvements in inventory levels, which is a welcome change from the rock-bottom levels of the recent past. This increase in available properties provides potential buyers with more options, making it a favourable time for those looking to invest in the Pemberton market.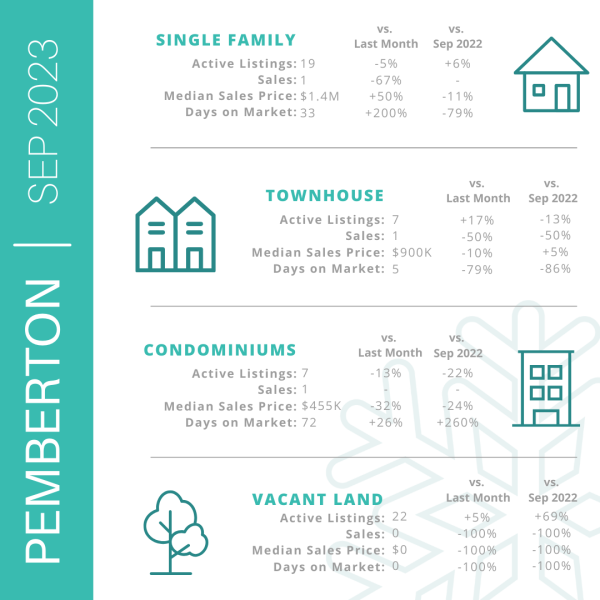 Looking Ahead
Looking ahead, the Pemberton real estate market is expected to maintain its steady sales throughout the fall and winter. This prediction is grounded in several factors. Firstly, the limited inventory in the area means that competition for available properties will likely remain strong. Additionally, properties in Pemberton are appealing to those who find Whistler's price points a bit too steep, which positions Pemberton as a more affordable alternative.
For more information about how the current Pemberton real estate market activity trends may impact your decisions to buy or sell, contact me at any time.
–
Find out about the Whistler real estate market here.
*Excluding parking stalls
**All stats deemed to be accurate and taken from the Whistler Listing System, October 2023.